My startup was picked in the H-FARM Wellness Accelerator for Spring 2016. While my train started to accelerate, I left behind a city which hosted a number of important events in my life. In Milan, I enjoyed taking part in a path of education (graduated from The Hague's Inholland University), romance, teaching, networking, web-design and personal transformation. In the last two years I have been able to focus on what defines me as a person, professional and human-being. It has taken a lot of books, events and conversations but I feel closer to my goals than ever (but yet they are so intangible and it always feels like I just got started somehow).
Some Context to help understand. H-FARM
I arrive with a smile at the (Venice) Mestre Trainstation and start looking for my ride. Unfortunately, the driver thought I would arrive at the Venice Airport. I stand there waiting comfortably because it doesn't matter. I have arrived and an adventure is about to begin. I make a phone call and inquire where the driver is and before I knew it I arrived at Tenuta about 5KM from the H-Farm Campus, Tenuta was going to be my accommodation for some time. At the Wellness Accelerator, everything is taken care of, so you can focus on the most important thing… yourself and your work.
The next day I woke up earlier than usual and went outside to meet the other groups quite quickly. There was Andre (Fitsapp), Bernardo (Train Me), Laura (Fitssi) and Bernardo. We drove to the Campus and had our breakfast together (Cappucio + Brioche). Note: I'm going to buy some fruits and have a filling breakfast before I go to the Campus from now on.
After breakfast, I cleaned up my computer and cleared out my calendar. Did some reading, planning and decided on things to do during the accelerator. Then I had my meeting with Timothy, Alvaro and Jessica. We all answered three simple questions: Who, Why, How? It ended with a pitch of about 30 seconds. It went quite well as everyone was on the same page and everyone had a relevant background.
I moved to Italy to live a new life two years ago. I choose Italy because I wanted to try something new and I had already lived in Spain. I've got two degrees: one in audio engineering and media and entertainment management. I enjoy creating things and have always done so (websites, music, events). There is something fulfilling about looking back and seeing what you have made. I don't watch TV shows, play games and use social media without a purpose. A friend once told me that you should always ask yourself the following at the end of your day: "What did I do to be healthy, productive, happy and what did I give today?". It's pretty good to live by that rule.
Ultimately, I'm here to concentrate and live monk-mode. My goal is to work on a beautiful success or failure. It doesn't matter if we succeed or fail, the important thing is that we tried. In the next 14 days all of the start up teams will have adopted new beneficial habits, gained confidence and gained new perspectives because it only takes 14 days to completely change your habits.
At the H-FARM Campus
Alvaro and Jessica take care of the program and help us make connections with people we want to meet. Alvaro had a startup here in the incubator but started working here afterwards. Jessica started around May while she is finishing her university degree. Timothy has been in Italy for over 20 years and has created a number of businesses, one of which, is an award winning Wine E-commerce platform. If you ever get the chance to meet Timothy then you should ask him about this and he will give you a couple of funny comments.
After some small talk I had to pitch the project. Over the next few months we will continuously have to pitch our project. So far, not bad. My feedback for this pitch was to name the company at the beginning of the pitch and near the end. To include something about myself and to focus more on the "holistic" rather then an example of the services right away. In this way you make it easier for the VC to ask questions about the products your selling.
Our first workshop included an introduction on the program and we discussed what exactly it meant to be an entrepreneur an startup.
The Entrepreneur looks for Innovations, Opportunity and Real Value.
1. Innovators
"Entrepreneurs are innovators who use the process of shattering the status quo of existing products and services, to set up new products, new services" Joseph Schumpeter (1930s)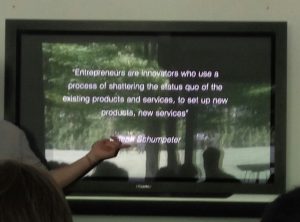 2. Opportunists
The entrepreneur exploits new market opportunities. My startup exploits the trend of the ever increasing number of quality fitness facilities in hotels.
3. Real Value
An entrepreneur uses innovations and opportunity to generate real value for a specific target audience. The entrepreneur asks oneself "What can I do for my client in order to create value?". Remember, it's not important to tell people what you are doing or how you are doing it. But, what's important is to explain the problem of your target audience and how you intend to solve it. This might not give the tingles to everyone when they hear your pitch. But, that's not important. What really matters is that there is someone out there. That someone will fall in love with your idea and will want to find out more.
The Paradoxes of being an entrepreneur
Holistic and Focused: You should have a grand view on the opportunities. But at the same time be attentive to the details. Steve Jobs for example had an image to create a beautiful computer, but paid attention to the details such as the fonts displayed on the screen.
Ambition and Humility: Be humble and listen to criticism but at the same time be ambitious. We are going to create the best booking platform that people have ever seen.
Demanding and Generous: There is an old Chinese saying "Give before you take".
Engaged and Curious: Be absolutely focused on what you are doing. Almost obsessed with everything possible. At the same time, be curious to other solutions. Sometimes, things may not be as you think and be ready to overhaul everything and make a change.
Humility is the most important because the problem needs to be clear. VCs are only interested in fixing problems and scaling quickly. If you can show that people love your product from the start and your making profits with low losses then you can tell VCs "Look, right now we are spending this and making this amount of profit. If you give me 5 million we will make this amount of profit". In the USA, VCs want to go from 1 Million to 20 Million.
Next we discussed the "Business Model Canvas". It reminded me a little bit of Micheal Porter's Value Chain. This is something I am going to cover in my next post.